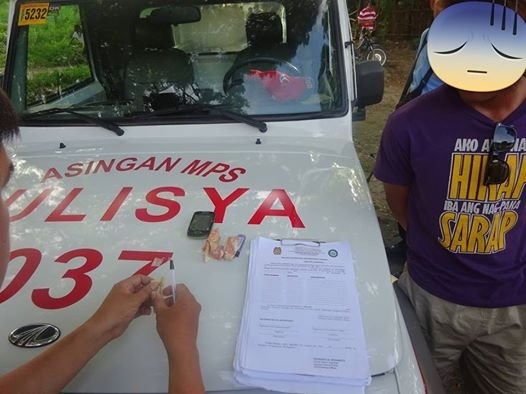 Asingan MPS- Asingan police operatives collared another suspected illegal drug pusher during a buy-bust operation here today (Aug 30).
According to PCINSP Ryan L Manongdo, OIC, arrested was Jun Joven P Sarmiento, 20 years old, single, unemployed and a resident of Brgy Ariston West, this town. He was arrested at Brgy Bantog, this town, around 6:00 in the evening, after selling two (2) pieces of heat sealed transparent plastic sachet, containing suspected shabu to the police officer who posed as buyer, before the raiding team led by PSINSP Reynante B Organista, DCOP and Chief, Anti-Illegal Drug Special Operations Task Group (MAIDSOTG), swooped down and arrested him.
Inventory of the illegal items in his possession was made before the barangay officials. The arresting team brought Sarmiento to Asingan Community Hospital for medical examination and later brought to this office for proper documentation.
The suspect, who is a subject of sustained police intelligence surveillance, is now in police custody while charges are now being filed against him.
Confiscated items were brought to the Crime Laboratory Office in Urdaneta City for examination with the suspect for drug test.
Sarmiento's arrest is the fifth drug accomplishment of the revamped police force.
The top cop continues to implement Oplan Tokhang so that drug personalities will be given chance to voluntary surrender while his pioneering project "Tama sa Pagbabago" for the surrenderers is now on its 2nd Phase in this town.
"This accomplishment should not only be credited to police effort. It is also the success of the people, because, what's more important here is the community's support in providing information that would lead to the arrest of suspects.", PCI Manongdo added. ###
Asingan MPS News Release: 08-16-09
Authority: PCI RYAN L MANONGDO
OFFICER IN CHARGE
Asingan Police Station
Poblacion West, Asingan, Pangasinan
Contact Number: 09054618881
FB Account: Asingan Mps Pang PPO
E-Mail: asingan_mps@yahoo.com
Date: Tuesday, August 30, 2016