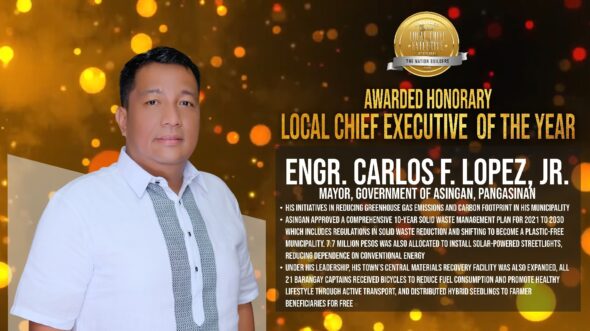 LOCAL CHIEF EXECUTIVE OF THE YEAR
ENGR. CARLOS F. LOPEZ, JR.
Mayor, Government of Asingan, Pangasinan
For his initiatives in reducing greenhouse gas emissions and carbon footprint in his municipality. Sustainable environment and climate change adaptation are at the core of his governance. Asingan approved a comprehensive 10-year solid waste management plan for 2021 to 2030 which includes regulations in solid waste reduction and shifting to become a plastic-free municipality. 7.7 million pesos was also allocated to install solar-powered streetlights, reducing dependence on conventional energy.
Under his leadership, his town's Central Materials Recovery Facility was also expanded, all 21 barangay captains received bicycles to reduce fuel consumption and promote healthy lifestyle through active transport, and distributed hybrid seedlings to farmer beneficiaries for free.
PIO Asingan
#SustainabilityStandardsInc
#Sustainable #Sustainability #MOSLIVORG #MoslivAwards #Sustainablility #NationBuildersAndMoslivAwards2022 See less
Source: https://www.facebook.com/NationbuildersAndMoslivAwards/