Section 16 of Republic Act 10121 gives the power to declare an area or areas under a State of Calamity to the President of the Philippines or to the Local Government Units upon the recommendation of the National Disaster Risk Reduction Management Council (NDRRMC) or their local counterparts known as the Local Disaster Risk Reduction Management Council (LDRRMC), respectively.
Once under State of Calamity, citizens of that area are granted the opportunity to apply for a loan, from the government, without interest. The following is the process of applying for calamity loans: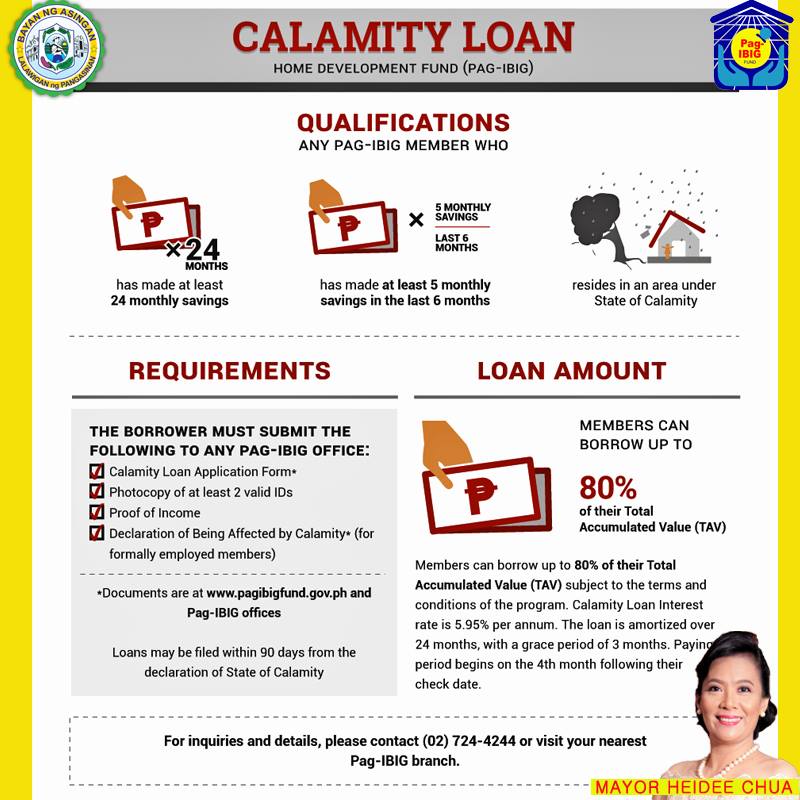 Home Development Fund (Pag-IBIG)–Calamity Loan Qualifications
Any Pag-IBIG member who
Has made at least 24 monthly savings
Has made at least 5 monthly savings in the last 6 months
Resides in an area under State of Calamity
Process and Requirements
The borrower must submit the following to any Pag-IBIG office:
Calamity Loan Application Form*
Photocopy of at least 2 valid IDs
Proof of Income
Declaration of Being Affected by Calamity* (for formally employed members)
[*Documents are available at www.pagibigfund.gov.ph and Pag-IBIG offices]
Loans may be filed within 90 days from the declaration of State of Calamity.
Loan Amount
Members can borrow up to 80% of their Total Accumulated Value (TAV) subject to the terms and conditions of the program. Calamity Loan Interest rate is 5.95% per annum. The loan is amortized over 24 months, with a grace period of 3 months. Paying period begins on the 4th month following their check date.
For inquiries and details, please contact (02) 724-4244 or visit your nearest Pag-IBIG branch.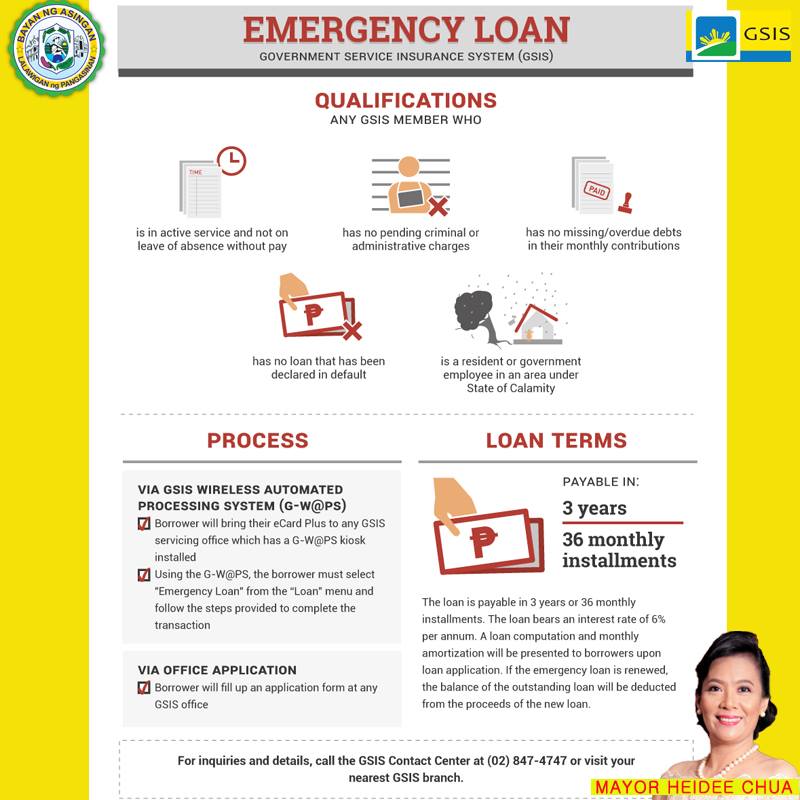 Government Service Insurance System (GSIS)–Emergency Loan Qualifications
Any GSIS member who:
Is in active service and not on leave of absence without pay
Has no pending criminal or administrative charges
Has no missing/overdue debts in their monthly contributions
Has no loan that has been declared in default
Is a resident or government employee in an area under State of Calamity
Process Via GSIS Wireless Automated Processing System (G-W@PS)
The borrower will bring their eCard Plus to any GSIS servicing office, which has a G-W@PS kiosk installed
Using the G-W@PS, the borrower must select "Emergency Loan" from the "Loan" menu and follow the steps provided to complete the transaction
Via Office Application
Borrower will fill up an application form at any GSIS office
Loan Terms
The loan is payable in 3 years or 36 monthly installments. The loan bears an interest rate of 6% per annum. A loan computation and monthly amortization will be presented to borrowers upon loan application. If the emergency loan is renewed, the balance of the outstanding loan will be deducted from the proceeds of the new loan. For inquiries and details, call the GSIS Contact Center at (02) 847-4747 or visit your nearest GSIS branch.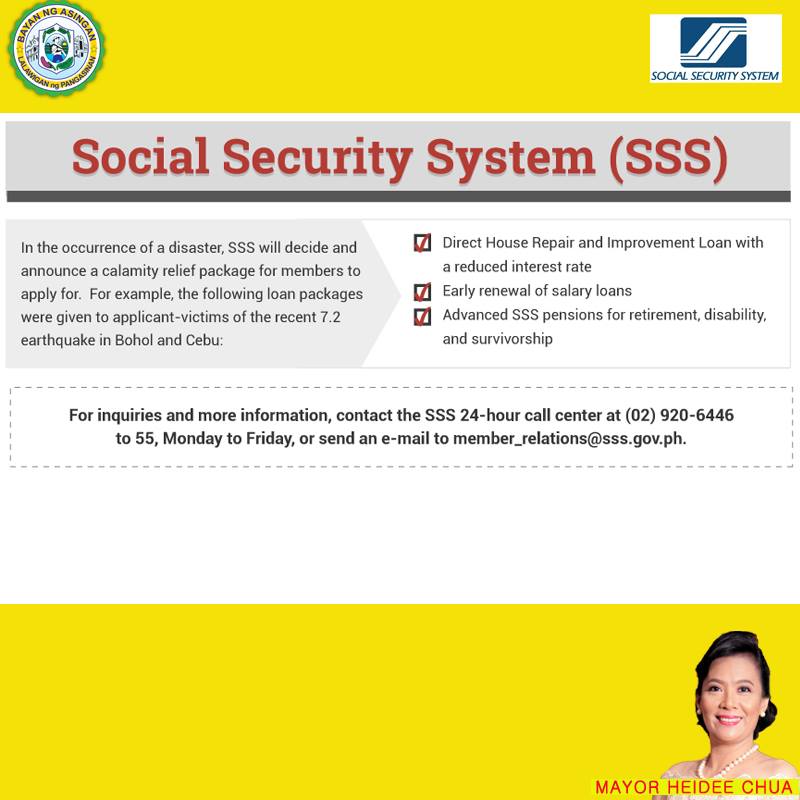 Social Security System (SSS)
In the occurrence of a disaster, SSS will decide and announce a calamity relief package for members to apply for. For example, the following loan packages were given to applicant-victims of the recent 7.2 earthquake in Bohol and Cebu:
Direct House Repair and Improvement Loan with a reduced interest rate
Early renewal of salary loans
Advanced SSS pensions for retirement, disability, and survivorship
For inquiries and more information, contact the SSS 24-hour call center at (02) 920-6446 to 55, Monday to Friday, or send an e-mail to member_relations@sss.gov.ph.