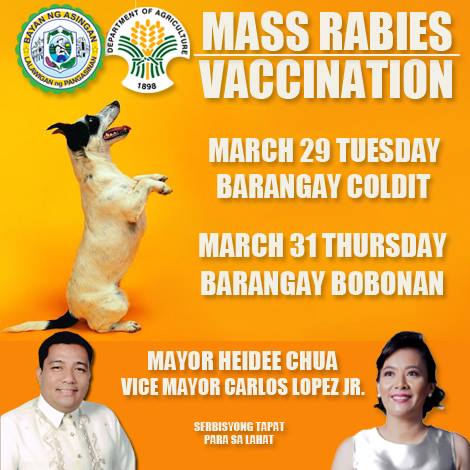 The Local Government Unit of Asingan with Mayor Heidee Chua and Vice Mayor Carlos Lopez Jr has set its eyes on making the municipality rabies-free for the welfare and benefit of its constituents.
In line with this goal, the Department of Agriculture of Asingan has intensified its campaign against rabies, particularly in the month of March which is Rabies Awareness Month, by holding mass anti-rabies vaccination activities and going to different barangays to conduct seminars on responsible pet ownership.
Mayor Heidee Chua stressed the importance of animal welfare and the benefits of having properly vaccinated pets in your home or in the community.
According to our lady mayor, "We treat animals as a member of our family and just like humans, we want to give them the best care possible. A healthy community fit for both humans and animals,
we will support this through vaccination and proper information dissemination."
For pet owners who want to have their pets vaccinated, they may coordinate with their barangay officials or DA Asingan office.