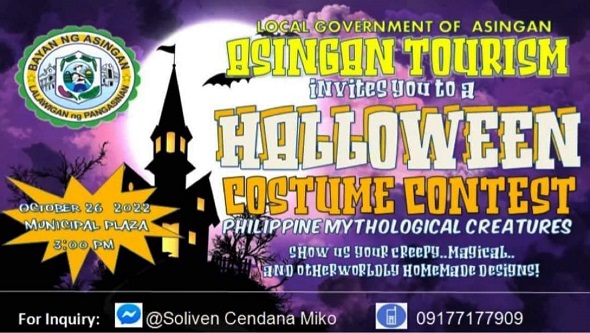 2022 LGU ASINGAN HALLOWEEN COSTUME CONTEST
THEME: PHILIPPINE MYTHOLOGICAL CREATURES
OCTOBER 26, 2022 3:00 P.M.
ASINGAN TOWN PLAZA
I. Mechanics (Open Category)
1. The Contest is exclusive to LGU Employees and Asingan Residents only from 8 years old and up.
2. There will be forty (40) limited slots for the contest.
3. Entry should be submitted on or before October 21, 2022 until 5:00pm only at Asingan Tourism Office located at MDRRMO Operation Center right beside the Asingan Sports and Cultural Center or you can message your entry with your name, address, age and contact number to 09177177909.
4. Children must be accompanied by parents/guardians.
5. All contestants must be present in the Halloween Costume Lounge in full costume 1 hour before the scheduled stage presentation for Catwalk verification. Failure to verify and confirm their participation to the event marshal assigned at the holding area may result in disqualification.
6. Catwalks/skit must be kept wholesome. Keep the performances appropriate for the general audience.
7. The final results will be announced during the same day of the competition.
8. We reserve the right to amend the terms and conditions without prior notice.
II. General Rules and Conduct
1. There will be no registration fee for the contest.
2. If you have (2) or more assistant, only (1) assistant will be able to enter the Halloween Costume Lounge before the scheduled presentation.
3. Obscene language or signs towards (including but not limited to) other participants, judges, hosts, marshals, audience, and / or the organizers will not be tolerated.
4. Kindly maintain a decent voice tone while inside the event premises. Avoid shouting, screaming, and yelling so as not to disturb other people.
5. The judges' decisions are final. No appeal will be entertained.
III. On the Contest proper, Props and Accessories
1. We highly value decency; therefore, costumes that reveal private parts or display nudity will be disqualified from the competition.
2. Props such as (but not limited) swords, blades and knives are to be made from non-metallic materials. Metal objects are not allowed to have sharp blades nor sharp edges.
3. Real weapons are strictly not allowed in the premises of the event. Getting caught with such are be immediately escorted out and will be disqualified.
4. We reserve the right to check all the props and accessories of all the participants. If any irregularities that violate the rules are found, the participants in question will be disqualified.
5. Any type of pyrotechnics attributed to either costumes or props are strictly not allowed.
6. Participants should be responsible for their costumes at all times.
IV. Criteria for Judging
• CHARACTERIZATION 40%
(Resemblance of the continue accessories, make – up and wig to the character being portrayed)
• CRAFTSMANSHIP 30%
(Workmanship, Creativity and intricacy of costume detail)
• CATWALK 20%
(Character portrayal and overall performance on stage)
• AUDIENCE IMPACT 10%
(Entertainment value and presence)
• TOTAL 100%
V. PRIZES
1st Prize 4,000.00 + Certificate of Recognition
2nd Prize 3,000.00 + Certificate of Recognition
3rd Prize 2,500.00 + Certificate of Recognition
4th Prize 2,000.00 + Certificate of Recognition
5th Prize 1,500.00 + Certificate of Recognition
6th Prize 1,000.00 + Certificate of Recognition
7th Prize 1,000.00 + Certificate of Recognition
8th Prize 1,000.00 + Certificate of Recognition
9th Prize 1,000.00 + Certificate of Recognition
10th Prize 1,000.00 + Certificate of Recognition
Consolation Prize 500.00 x 30 slots = 15,000.00
+ Certificate of Appreciation